Prevent defects that affect your bottom line
Increase lifetime, performance and reliability
From simple ball bearings to complex turbine airfoils, traditional NDT methods inspect only for known issues, and in many sampling practices, may test less than half of the parts. Defects that slip through the cracks lead to costly failures and loss of confidence. Adding Vibrant's revolutionary PCRT testing to your NDT inspection routine allows you to quickly test all parts and immediately identify potential quality issues.
The Wholistic Approach
Unlike standard NDT, which can many hours for a single part, Vibrant tests parts in a matter of seconds, comparing data from the whole part against all others. Comparative analysis quickly identifies parts out of conformity, even on microstructural and chemical levels. We deliver game-changing reliability improvements while eliminating costly destructive testing, helping you to salvage parts with remaining service life, and reducing expensive downtime caused by avoidable part failures.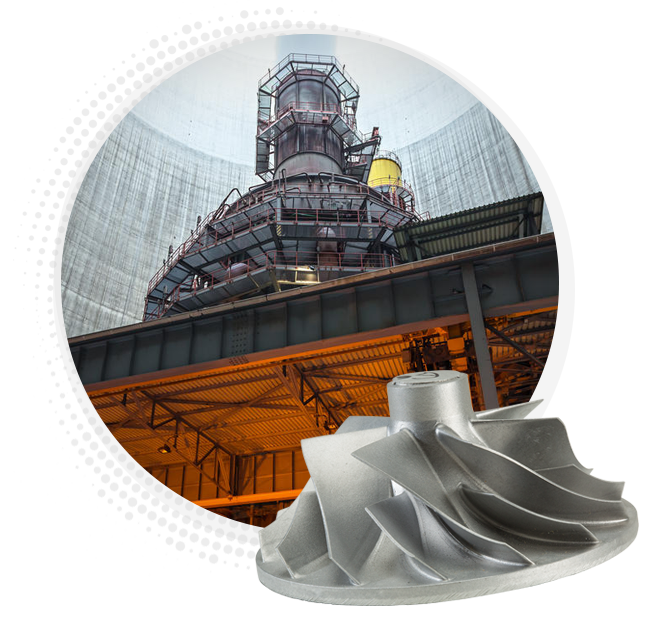 Power Generation Applications
Power Generation components are typically too large and thick for traditional X-ray and Ultrasonic inspections, often leading to inferior and reduced inspections. Resonance allows every part to undergo stringent whole part inspections, allowing you to achieve higher quality, safety and risk reduction.
Advanced Materials
Vibrant's PCRT successfully tests all standard power generation metals and alloys as well as a number of advanced materials.
Equiax, directionally-solidified and single crystal superalloys
Ceramics
Composite
Processes
PCRT technology supports parts manufactured under a large variety of processes.
Casting
Forging
Welding
Additive manufacturing
Induction hardening
Hot isostatic pressing (HIP)
Composite fabrication processes
Ceramic matrix composite (CMC) fabrication processes
Critical Components
PCRT offers the peace of mind that all parts are defect free.
Fasteners
Control system mechanisms (gears, linkages)
Structural components
Turbine blades and disks
Hybrid bearing ceramic rolling elements
Nozzles
Static components (shrouds, endwalls)
Impellers
Radial turbines
Shafts
Discover how PCRT Technology can help you
Learn more about how Vibrant can reduce your costs and risk in the power generation industry with our advanced resonance testing.