Vibrant Corporation World Headquarters has again expanded to occupy the full 12,308 square feet at the 8916 Adams NE building Albuquerque, New Mexico. Vibrant moved to 8916 Adams NE, Suite A in November of 2017 to occupy 8104 Sq. Ft. of office, warehouse, light machine shop and lab space with a high ceiling shop served by a 10' X 10' drive-in door. The August 2018 occupation of 8916 Adams NE, Suite B, added 4204 sq. ft. to include a second conference and training room, more staff and operations offices, storage, lab space, additional restrooms and employee kitchen with fenced patio, parking and storage areas.
According to Janine Reed, Vibrant's lead PCRT testing technician, the expansion provides an improved, quiet and separate space for manual and semi-automated PCRT testing services. "Our testing volume is growing, and we can now achieve faster turnaround times for our North America customers", says Reed.
Vibrant provides PCRT testing services for aerospace, automotive and power generation industries around the world. To support testing services, Vibrant designs and manufactures the proprietary PCRT equipment, develops and maintains Galaxy software, and is home to a growing team of PCRT analytics experts.
Mark Ortega, Manufacturing Manager is pleased to say that the additional space not only accommodates additional staff, but enables the appropriate manufacturing process flow. "We are now able to realize the efficiencies that we knew would increase our production volume", he states. Robert Sisneros, Vibrant's Quality Manager adds "not only are we operating with greater efficiency, but our quality continues to improve".
The building is located near Alameda and Jefferson, in the Wildflower neighborhood, which is adjacent to the City of Albuquerque Balloon Fiesta Park. The location is just a short drive from Albuquerque International Sunport and Downtown Albuquerque, and still a reasonable drive for employees in Corrales and Rio Rancho. Concurrent with the expansion, Vibrant launched their new brand with an updated website and print materials.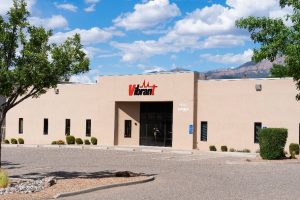 About Vibrant
Vibrant provides Process Compensated Resonance Testing (PCRT) services to the Aerospace and Power Generation industries worldwide through its facilities in the United States and Europe. PCRT applications range from quality assurance and process capability assessment for Original Equipment Manufacturers to in-service structural assessment and life monitoring for Maintenance, Repair, and Overhaul organizations. Vibrant is certified to AS9100 Rev D, and ISO 9001:2015. www.vibrantndt.com