On February 22nd, we announced the launch of a new variant of our Process Compensated Resonance Testing (PCRT) system. Standard PCRT systems include transducers mounted beneath custom fixtures designed to load specific parts for testing. REX features the transducers on a robotic arm that can move directly to the part, eliminating the need for custom part-specific fixtures, and allowing a single system to easily test a range of part geometries. It offers greater flexibility and automation in testing a wider variety of parts with one system, while avoiding custom fixture manufacturing costs and human interpretation error.
REX was inspired by additive manufacturing. As additive manufacturing becomes more prominent in the aerospace manufacturing landscape, there is real demand for a cost-effective testing method with the flexibility to test multiple part variations.  REX can be installed to inspect parts immediately after they are removed from the build plate – whatever coupon or end-use shape they are in.  PCRT allows for volumetric inspection of a wide range of geometric designs, and can detect structurally significant defects whether they break a surface, or not, and does not require a line of sight.
After using REX systems to evaluate additive parts, we discovered that the approach also works well for assessing the mix of different part numbers and types in our customers' MRO facilities. When part volumes are low enough for multiple parts to be inspected by a single PCRT machine, REX eliminates the need for storing multiple fixtures or performing time-consuming change-overs. With automated, quantitative, and objective inspections, REX systems can test over 50 different part numbers using a single operator sequence and instruction. By incorporating barcodes on part traveler paperwork, REX systems accurately select the appropriate robot transducer positions and PCRT sort criteria, thereby reducing the need for extensive training and documentation required for human operators to perform subjective inspections on each part variation. This automation allows for more consistent and reliable testing results while also minimizing the potential for human error.
However, industries such as automotive, will still benefit from our original PCRT system testing higher volume and a lower mix of parts.
See it in action. Watch video by clicking here.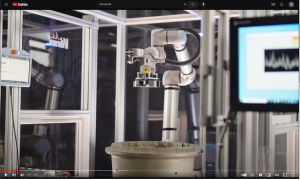 What is PCRT?
PCRT measures the resonance frequencies of whole parts, combining the collection of broadband resonance data in the ultrasonic frequency range with advanced pattern recognition to produce an accurate, rapid, and automated non-destructive inspection. Parts with flaws or changes in material and geometric properties affecting structural performance are immediately detected and flagged, ensuring that they are safe for use.
PCRT technology has become increasingly popular in recent years due to its ability to provide accurate, repeatable, and reliable testing for parts in environments with lower volume and a higher mix of part numbers. Vibrant's patented PCRT technology includes proprietary software and user-friendly hardware available as a service at Vibrant's factory or as a full system delivered and operating in a customer's facility.
Award Winning Innovation
Vibrant has been making waves in the aerospace nondestructive testing (NDT) industry with its innovative solutions and has garnered it several awards and accolades, including the 18th Annual Nondestructive Testing Innovation Award in September 2022.
The award recognized Vibrant's work with Collins Aerospace on the Novel Resonance Inspection of Commercial Aircraft Wheels Project. Since April 2022 more than 5,000 wheel halves have been serviced using PCRT and more than 50% of wheel MRO was tested with PCRT. This technology has significantly improved the inspection process, reducing inspection times while improving the quality and accuracy of inspections.
Vibrant's first major award for its PCRT technology came in 2010 when Delta Airlines and Vibrant's PCRT team received the FAA-ATA NDT Better Way Award. The award recognized the technology's ability to reduce costs while providing rapid, reliable, and sensitive inspection. The technology has since been widely adopted by the aerospace industry, including leading companies such as Pratt & Whitney, GE Aviation, and Rolls-Royce.
In 2016, Vibrant's PCRT expertise was once again recognized when it won the SAE NDT Better Way Award with a group from Pratt & Whitney Canada (P&WC) for work on the "Application of Advanced NDT Methods for Field Performance Improvement of the PW100 Series Engine." The award highlighted the impact of Vibrant's PCRT technology on improving engine performance, reducing maintenance costs, and increasing safety.
Vibrant's commitment to innovation and excellence in NDT has made the company a leading player in the industry. The company's focus on developing new and advanced technologies has helped it to continuously improve the quality and efficiency of inspections, providing better outcomes for its customers.
Curious what PCRT can do for you?
 If you are experiencing recurring issues not discovered by your current NDT, or are seeking a different kind of inspection that is faster, cleaner, and free of operator interpretation – PCRT is your solution. Contact us today to learn more.